THIS WIKI IS CURRENTLY UNDER CONSTRUCTION!

Welcome to the Nihonkoku Shoukan Wiki
Get Started • Create Article • Blog Post • Rules & Guideline • Administrators
Nihonkoku Shoukan (日本国召喚) or Japan Summons, is a collaborative encyclopedia designed to cover everything there is to know about the Japanese light novel, written by Minorou and illustrated by toi8. This is a fan created wikia so anyone is free to edit or contribute content.
SYNOPSIS
In the Great Orient, lies the continent called Rodenius.
One day, an unidentified flying object arrived at Qua-Toyne Principality's airspace. The unidentified flying object defied the Principality's common sense. But that unidentified flying object was just a harbinger of something even more shocking.
Far to the eastern sea, a group of islands suddenly appeared. The country of the islands called itself: Japan. According to them, their nation had been transported to another world.
Now finding themselves separated from their old world and must survive in the new one, how will Japan interact with the native countries of this world? Will they greet her as a friend or as an enemy?
This is a story of the country called Japan as it was engulfed in the chaotic storm of the world.
NEW WORLD WAR
New World War is an ongoing global conflict between the New World alliance, led by the major powers of the civilized countries and Gra Valkas Empire who declared war on the whole world. Japan also joined the war against the Empire after they publicly executed the Coast Guard crews of the Shikishima and attacking a cargo vessel on its ways to Mu.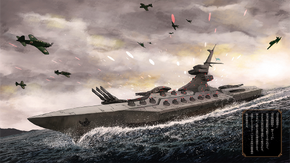 The global war started at the eleven countries international conference which held once each two years at the port city of Cartalpas in the Holy Milishial Empire. The participating countries address the current events and issues of the world. Two emerging countries are invited for the first time at the conference and recognizes as a superpower after defeating two former superpowers: Gra Valkas Empire defeating Leifor and Japan defeating Parpaldia Empire.
During the conference, the representative of Gra Valkas Empire declared their ultimatum to the ten countries present that they should submit to their rule and be colony of the Empire which enraged the gathered diplomats. Gra Valkas sent a fleet to attack the international conference, the alliance fleet suffered enormous damage and the port town of Cartalpas was bombed in the air raid which lead into world war. Read More...